Golf
The Missouri Bluffs Golf Club Will Be an Instant Addition to Your Top Ten Best Courses List!

"The most beautiful course I have ever played. Many species of wildlife to view and the conditions are outstanding. Best course in Missouri!"
Reviewer from www.golfcourse.com
There's not a single golf course quite like The Missouri Bluffs anywhere in the Midwest, or elsewhere in the world for that matter.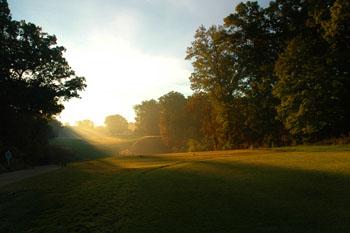 The scenery at The Missouri Bluffs is exquisite. The course is gently carved from the best that nature has tooffer. With tees perched high, pristine zoysia fairways are edged by huge hundred year old trees and lead to perfect bent grass greens. You'll see an occasional deer and to the delight of golfers, sometimes even a small herd. You'll often stumble across a fox or wild turkey that are as startled by you as you are by them. You'll sense the faint hint of honeysuckle in the air as hawks glide high overhead, but enough of the beautiful setting and natural ambience. Let's talk golf…
The total course length from the championship tees is a demanding 7047 yards, but with four additional set of tees at 6610, 6205, 5807, 5191 yards, everyone can find the perfect length to enjoy their game. Our Tom Fazio designed course is a fabulous blend of generous fairways and large greens that provides the player with a perfect mix of birdie and bogey opportunities - the tone of which is quickly set on the first two holes.
Click here or call us now at 636-939-6494 to book a tee time!
A Spectacular Layout Laced with Birdie and Bogey
Opportunities at Every Turn
Down the hill and away you go on the first. This superb 549 yard, par five starting hole is very forgiving allowing players a chance to start their round on the right note. The green can be reached in two with a receptive green that slopes slightly back-to-front. Two long shots or three well-placed shots provide an early birdie opportunity that you will want to take advantage of at once before progressing to the second hole. This outstanding downhill par three requires not only a good golf swing, but also the proper club selection. This long narrow green runs away from you and there's a three-club difference from the front to the back of this green. At 212 yards from the back tees, it will require a well struck long iron, three wood, or a quick up and down early in your round. And so it goes as you progress around the picturesque front nine. Each time you are given an opportunity for birdie, it is quickly backed up by a challenging hole ready to snatch par from your grasp, and few clubs in your bag will be untouched by the day's end.
"Most definitely the best golf course in the area, if not Missouri. The course is in perfect condition. The greens especially are smooth and putt at a great speed. Tees are in great shape. Rough is thick and plays very well. Fairways are excellent. You have to appreciate zoysia. Scenery is the best I've seen, and we saw herds of deer and other wildlife. I found the par 3s to be some of the best I've played. The pro shop staff was very polite and the maintenance staff is doing a great job. Play it soon. It's awesome."
- J. Leynard
Click here or ask for the membership office at 636-939-6494 for more information on making Missouri Bluffs your home course!
On the back nine the par four 12th - aptly called "Fazio's 4"
- is a monster par four stretching 474 yards from the tips.
Finding the fairway is a must in order to be able to play a successful long iron into this deep-angled green. It'stake par and run on this one! The 529-yard par five 15th hole is a great birdie opportunity once you get over the beautiful view from our signature hole tee-box. A tee shot at the fairway bunkers down the 120-foot drop should leave you with a good look at the green. You have two options with your second shot -- either lay up or go. Going at this slender green is not a bad option, but beware of the false front and make sure to take enough club.
Not surprisingly, The Missouri Bluffs Golf Club has hosted a number of prestigious events including the St. Louis Nike Classic and The Missouri Bluffs Intercollegiate. In addition, we have hosted qualifying tournaments for the PGA Tour and the USGA.
The accommodating staff at The Missouri Bluffs takes the extra steps to pamper golfers from the moment they arrive both on the course and at our 12,000 sq foot clubhouse. Please join us soon to enjoy the finest setting for your most pleasurable golf game, ever. It's only natural here at The Bluffs.
"What a great course! I decided to head over to St. Louis to play this course with a few buddies, and it was worth the trip. We don't have anything like this in Kansas City, so if you live in St. Louis, don't take it for granted, get out and play here! We played it from the white tees because no one had played the course before, (it's ok to play the front tees everyone) and I shot 76. I can't wait to play it again from the tips and have it eat my lunch!"
Satisfied Golfer, Kansas City, MO
For information on outings click here or please call us at 636-939-6494!